September 16,  2015, Kolkata: Kolkata witnessed the launch of French cosmetic and wellness brand, Thalgo, with Tollywood icons Parambrata Chatterjee and Payel Sarkar in the presence of Mrs. Yashodhara Khaitan, Director, Solace today at Solace, 4, Sunny Park, Kolkata.  The Thalgo products and services will be exclusively available  at Solace.
Backed by almost 50 years of skincare experience, Thalgo the undisputed expert in marine cosmetology explores the oceans to churn out a line of skin care products which will regenerate, moisturize, stimulate and nourish.  Being introduced for the first time in Kolkata these products are capable of measuring the ideal beauty index of all skin types.
Solace introduces you to an indulgent experience, with four exclusive Thalgo treatment protocols, that will rejuvenate and oxygenate the skin.  These are:
A)3 ALGAE MARINE TREATMENT
This signature treatment from Thalgo is suitable for all skin types.  This facial helps to revitalize, remineralize, rebalance and hydrate the skin.
B) SOURCE MARINE RITUAL  
A moisture boosting delight for all skin types but particularly dehydrated. The active ingredients in the peel-off mask deliver intense and lasting hydration. This facial leaves the skin rehydrated, its texture improved and the complexion smooth, plump and radiant.
C) COCOONING MARINE RITUAL
This facial is one of the most effective treatments for sensitive, fragile or reactive skin.
It helps to soothe irritation and redness of the skin leaving it fresh and luminous.
D) PURE FRESHNESS RITUAL
This is extremely beneficial for oily or combination skin. This treatment activates circulation, and improves skin conditions such in acne prone skin. Its re-balancing double mask reduces inflammation, controls excess oil and hydrates skin.
Speaking on the occasion, Mr. Parambrata Chatterjee, the celebrated Tollywood icon has stated, "Available at attractive packages….
Ms. Yashodhara Khaitan, Director, Solace further added, "Solace has always been in the forefront in providing effective holistic wellness solutions to the people of Kolkata.  Offering Thalgo treatments in Solace is another step in this direction"
So let Solace indulge you this festive season!
The treatments are reasonably priced:
3 ALGAE MARINE FACIAL@Rs. 2200,
SOURCE MARINE FACIAL@Rs. 3500,
COCOONING MARINE FACIAL@ Rs. 3500
COCOONING MARINE FACIAL@Rs. 3750.
To avail the exotic treatments please contact Solace at 4, Sunny Park at 91-33-3053-9300/9301 for booking an appointment.           
______________________________________________________________
About THALGO   
THALGO is a world leader in Spa, renowned for treatments and products that deliver excellent results. Founded in 1964, it is the original French marine spa brand, and from the outset, has been led by science and marine research. Today, THALGO is the range chosen by over 20,000 top spas and resorts in more than 90 countries. THALGO brings together the best in spa and beauty, and continues to push the boundaries of innovation, providing spas with on-trend treatments and products. THALGO takes a 360° approach offering a wide range of skincare and body care treatments combined with nutritional supplements for a complete solution and added effectiveness.
About Solace- a time for body and soul
Solace at 4, Sunny Park, Kolkata, opened its doors to public in September 2003.  It is the first spa to offer aqua aerobics in this city, the first spa to boast the only Reebok certified aerobics studio in the city and Eastern India and the only spa in the country where Dr Blossom Kochhar has an exclusive tie-up with and where she has launched a special Spa range. Solace has been established under the aegis of the Lotus Trust of the Williamson Magor Group.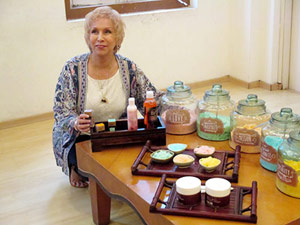 Dr. Blossom KOchhar at the launch of new spa
treatments at Solace_31st July 2015.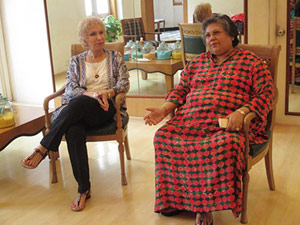 Dr. Blossom Kochhar with Mrs. Yashodhara
Khaitan, Director, Solace interacting at the
launch of new spa treatments at
Solace_31st July 2015.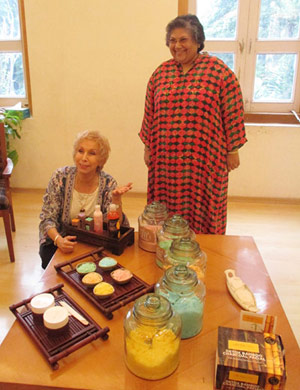 Dr. Blossom Kochhar with Mrs. Yashodhara
Khaitan, Director, Solace at the launch of new
spa treatments at Solace_31st July 2015.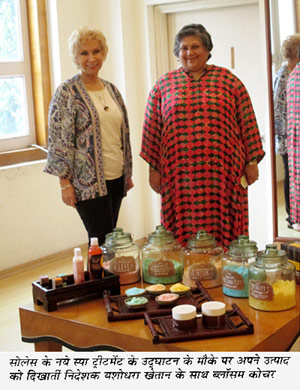 Dr.Blossom Kochhar with Mrs. Yashodhara
Khaitan, Director, Solace at the launch of new
spa treatments at Solace_31st July 2015.