Glinting and glossing (Body Wrap) | SEA MARINE HIGH PRECISION BODY SHAPING TREATMENT FROM THALGO | BLOSSOM KOCHHAR AROMA MAGIC BODY TREATMENTS
Body treatments are essentially a facial for your whole body and leave your skin feeling velvety smooth and soft. The idea behind a body treatment is that is just as important to cleanse, exfoliate, and hydrate the skin on your body as it is the skin of your face.
At Solace we have invigorating body treatments that leave you energised and rejuvenated:
Glinting and glossing (Body Wrap)
A wholesome experience to pamper yourself! You are glossed over with fruits and natural ingredients like mud, honey with detoxifying ingredients like spirulina to rediscover the inner you.
Aloe and fruit wrap
The enticing aromatherapy massage followed by an application of garden fresh aloe vera and seasonal fruit helps you to rediscover the hidden glow in you.
80 mins
Honey and yoghurt
wrap
The indulgence involves flora oil massage, sea salt scour, kosher honey wrap and the nourishing massage of plenary yoghurt.
80 mins
Sandal and Mineral Body wrap
An invigorating body massage and scrub followed by application of sandalwood paste is one of the best clear skin remedies that can be used to soothe harsh sunburns and de tan you skin.
The toning and anti-ageing effect of sandalwood helps in shrinking skin pores and tightening the skin giving you a supple and youthful appearance
80 mins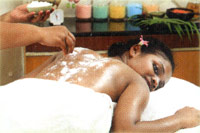 SEA MARINE HIGH PRECISION BODY SHAPING TREATMENT FROM THALGO 
The zest of body massage with sea salt body scrub and the therapeutic Dead Sea mineral mud pack would allow you to unwind and make you radiant.
60 mins
BLOSSOM KOCHHAR AROMA MAGIC BODY TREATMENTS
Crème De La Café Body Treatment 
Crème De la Cafe, available as a body wrap treatment includes full body massage followed by combination of coffee and milk wrap. It helps to eliminate the toxins from the body while the caffeine in it decreases the cellulite deposits. This treatment improves the circulation while moisturising and nourishing the skin thus helps to de tan the skin.
80 mins
Body Polishing with Chakra Salts 
The Chakra Bath Salts Body Polishing combines a rich blend of sea salt minerals with essential oils for varied benefits.  Launched in 5 variants each salt corresponds to a different mood as under: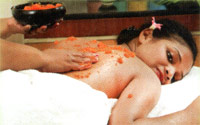 1. ORANGE : Increases  passion, sexuality, tantra and creativity
2. YELLOW :  Helps in gathering strength and power , increases vitality and energy
3. GREEN : Helps in prosperity, abundance and grounding
4. BLUE : Increases the ability to express, resonate and communicate 
5. PINK: Helps in Love, Balance and Harmony     
60 mins
Solace Connatural Glow 
An unabridged experience designed for complete tranquilising of the mind and body. This all embracing offer includes aroma oil pressure point massage, gloss over with a self chosen wrap. This modus also includes complete facial, hair and foot care, leaving an appeased body and soul. 
120 mins